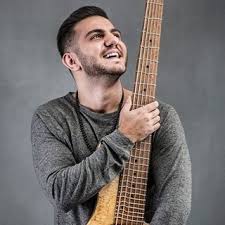 Bassist
Specialisatie in klassieke jazz

Bass guitarist
Specialisation in classic jazz
De Iraans/Armeense bassist Arin Keshishi werd geboren in Teheran, Iran. Op tienjarige leeftijd begon hij met het spelen van klassieke gitaar en vanaf zijn twaalfde met elektrische bas. Hij deed een bachelor in klassieke contrabas aan de Art University of Tehran in Iran en deed vervolgens een master in jazz basgitaar aan het Conservatorium van Amsterdam. 
Arin werkte als sessie speler met veel Iraanse artiesten in diverse stijlen en nam deel aan verschillende internationale festivals. Hij heeft meer dan 400 tracks opgenomen in uiteenlopende projecten. Sinds een paar jaar heeft hij zijn eigen band 'Arin Keshishi's project', waarmee hij verschillende keren heeft opgetreden  in Iran. Onlangs toerde hij met de bekende Iraanse traditionele zanger 'Homayoun Shajarian'.
---
Iranian/Armenian bassist Arin Keshishi was born in Tehran, Iran. When he was 10 years old, he started playing the classic guitar and from 12, the electric bass. He did his bachelor's in classic double bass at Iran's Art University of Tehran, followed by a master's in jazz bass guitar at the Conservatorium van Amsterdam.
Arin worked as a session player with many Iranian artist in a variety of styles and performed at a number of international festivals. He has recorded over 400 tracks in various projects. 
For the last few years, he has had his own band, Arin Keshihi's Project, with whom he performed in Iran several times. Recently, he toured with famous traditional Persian singer Homayoun Shajarian.